About Jeff
The fine art of box making was something I fell in love with over nine years ago. The beauty of a box can really only be limited by ones imagination. I strive to push the boundaries of the art. I like my pieces to challenge a persons thought process. What woods did he use? What does this lever do? I also believe the box should be a functional sculptural piece at the same time. It is an object that will draw attention to itself and start conversations.
Each individual box is unique.  I work with the client to come up with the most fitting design and that design is never built again.  I love making the boxes into very personal pieces.
Awards
Publications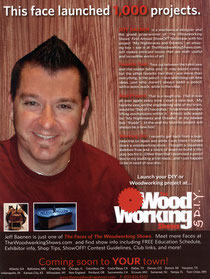 This is a national advertisement for The WoodWorking Shows that ran in the September-October 2010 and November-December 2010 edition of Woodworker West magazine.  This same full page ad will also be running in the upcoming March-April edition of Wood magazine!  Look for it!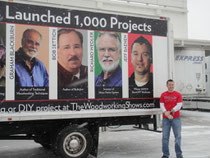 Imagine your picture being on the side of a truck driving from coast-to-coast throughout the year...pretty wild.  The very nice people that run The WoodWorking Shows let me know when the truck was available at the 2010 Chicago show.  We ran out in the blizzard and took some photos.  A great, but cold, time it was!